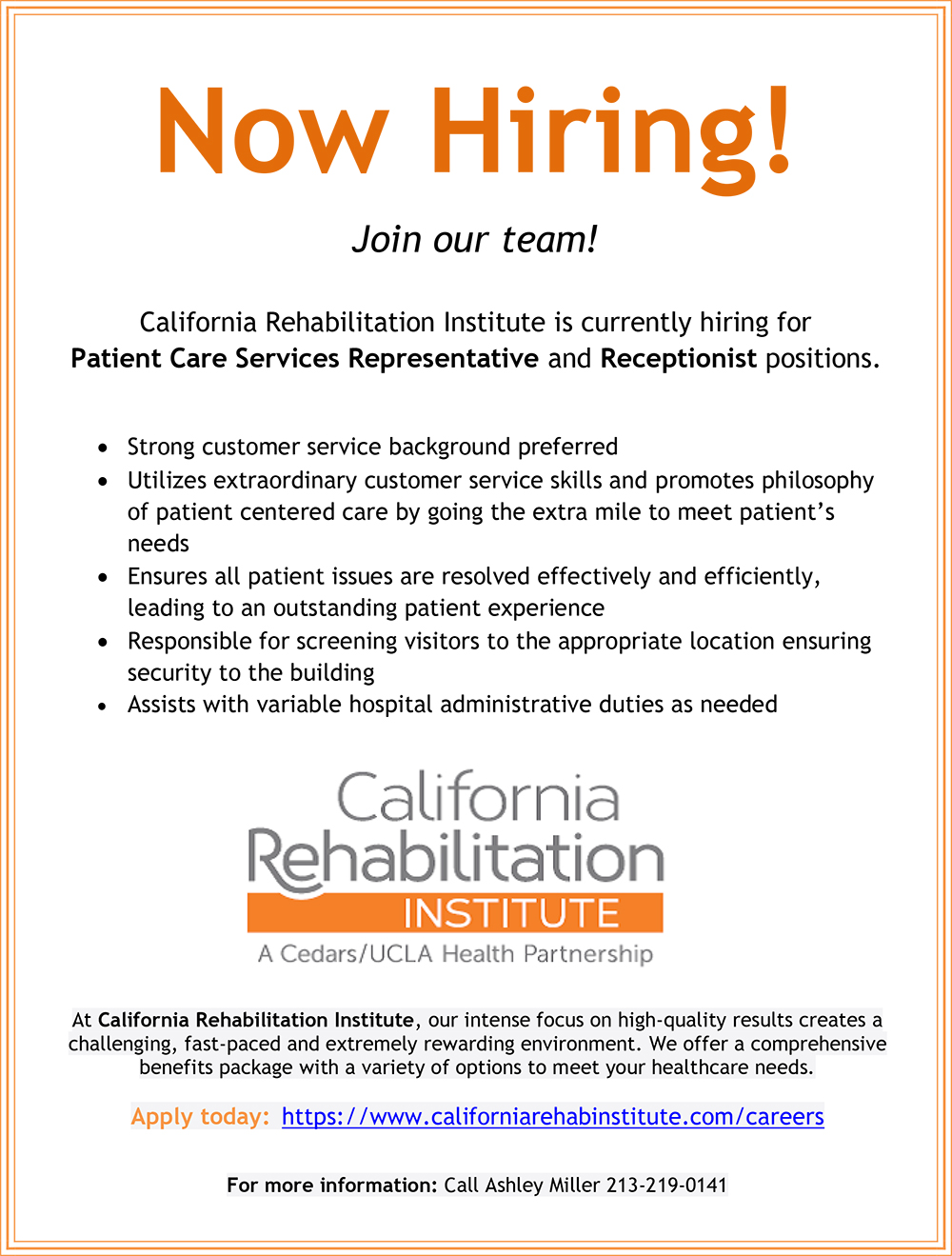 19 Nov

Work Opportunity With One Of Our Great Partners

Posted at 02:15h

in

Event

HAPPY MONDAY Artists For Trauma Wonderful Community!!!

We would like to share with you an incredible work opportunity from our Amazing Health Partner California Rehabilitation Institute

➡🌠😊Do you know of anyone that would be perfect for the available position located at 2070 Century Park E, Los Angeles, CA 90067?

Now Hiring! Join our team!

California Rehabilitation Institute is currently hiring for
Patient Care Services Representative and Receptionist positions.
Strong customer service background preferred
Utilizes extraordinary customer service skills and promotes philosophy of patient centered care by going the extra mile to meet patient's needs
Ensures all patient issues are resolved effectively and efficiently, leading to an outstanding patient experience
Responsible for screening visitors to the appropriate location ensuring security to the building
Assists with variable hospital administrative duties as needed
At California Rehabilitation Institute, our intense focus on high-quality results creates a challenging, fast-paced and extremely rewarding environment. We offer a comprehensive benefits package with a variety of options to meet your healthcare needs.
Apply today: https://www.californiarehabinstitute.com/careers
For more information: Call Ashley Miller 213-219-0141
🌠 Artists For Trauma …where Recovery is an Art
➡CREATIVITY…CONNECTIVITY…COMMUNITY
#ArtistsForTrauma #AFT #whereRecoveryisanArt #poweredbyHumanSpirit #rebrandingdisability #healingthroughart #artheals #AFTCalRehab #healthpartners #cedarssinai #ucla #Art #AFTMacys #AFTCalRehab #SelectMedical #SmartArtBox #CaliforniaRehabilitationInstitute #FamilyandFriends #LauraSharpe
UCLA Health Careers Select Medical Cedars-Sinai Careers